InfoAge Space Exploration Center
2300 Marconi Road Wall Township, NJ  732-280-3000

Open on Wednesday, Saturday and Sunday 12:00 – 5:00 pm  
---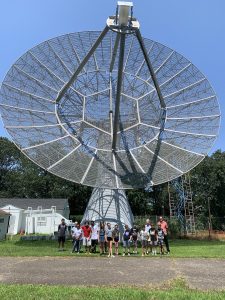 You may not realize it, but since in its original iteration as a NASA tracking station in the '60s through later use as a Department of Defense satellite data collection point, the facility intentionally kept its activities on the down low.
Today, the InfoAge Space Exploration Center (ISEC) is known in Science, Technology, Engineering, and Math (STEM) circles for its range of hands-on educational and research opportunities.
Scientific instruments at InfoAge  include the TLM-18 Radio Dish Antenna, optical telescopes, weather stations and radar displays.
The facility is open to the public, though reservations via the website are required for visitors. Special public events are offered throughout the year. ISEC offers a variety of educational activities, including our Space Week summer camp program.
Follow this link for more information: Space Week
REGISTER NOW!
SPACE  EXPLORATION  WEEK
JULY  25 – 29, 2022
InfoAge Space Exploration Center
2300 Marconi Road, Wall Township, NJ. 732-322-4823 0r 732-280-3000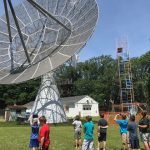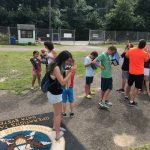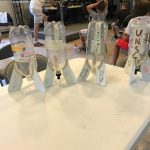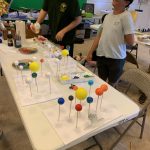 Space Exploration Week is a five day space science program for children ages  9 – 14 about The Earth, The Solar System, The Galaxy, The Universe, Rocketry, and Outer Space Observation and Exploration.   Each day is divided into two 3 hour sessions of fun filled model making, rocket launching, demonstrations and games.
On the final day of Space Exploration Week everyone will learn how to move the TLM-18 Space Sentry Radio Dish Antenna and use it to explore the Milky Way Galaxy.    Parents can take a video of their child at the controls!  We expect to have speakers from NASA and Princeton University.
Activities are indoor and outdoor and include a visit to the Radio Technology Museum, one of the original Marconi Towers,  and a trip to Mobile Radar Units.
Learn about the history of NASA's Space Programs and the exciting events that took place right here at the Diana Site in Wall Township that launched space exploration.
Travel through Space using the TLM-18 Radio Dish Antenna to send your voice to the moon and hear it
bounce back in 2.5 seconds!
Registration is limited, Register Now for summer 2022!
Follow this link for registration information :   https://isec.space/sw2022/
_______________________________________________________________________________________
InfoAge Space Flight Lecture Series
June 26, 2022 2:00 pm
"Heavy Metal:
Exploring the asteroid Psyche"
The asteroid Psyche is a unique world, most likely the metal core of an early planet. A new spacecraft will be launched later this year to explore this early remnant of the solar system.
  Presented by Frank O'Brien, NASA Solar System Ambassador
Delivered to InfoAge Space Exploration Center
Date: June 26, 2022 at 2:00 pm
THIS LECTURE WILL BE HELD AT 2300 MARCONI RD., WALL TWP.,  NJ