Space Exploration Week
July  25 – 29, 2022
InfoAge Space Exploration Center
2300 Marconi Road, Wall Township, NJ. 732-322-4823 0r 732-280-3000
Space Exploration Week is a five day space science program for children ages 11- 14 about The Earth, The Solar System, The Galaxy, The Universe, Rocketry, and Outer Space Observation and Exploration. Each day is divided into two 3 hour sessions of fun filled model making, rocket launching, demonstrations and games. On the final day of Space Exploration Week everyone will learn how to move the TLM-18 Space Sentry Radio Dish Antenna and use it to explore the Milky Way Galaxy. Parents can take a video of their child at the controls! We expect to have speakers from NASA and Princeton University.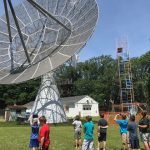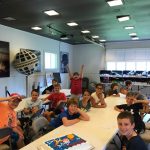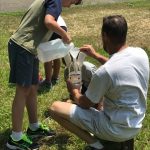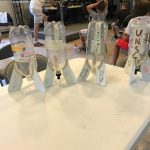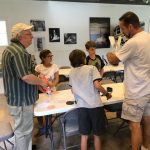 Activities are indoor and outdoor and include a visit to the Radio Technology Museum, one of the original Marconi balancing towers,  and a trip to Mobile Radar Units.
Learn about the history of NASA's Space Programs and the exciting events that took place right here at the Diana Site in Wall Township that launched space exploration.
Travel through Space using the TLM-18 Radio Dish Antenna to send your voice to the moon and hear it bounce back in 2.5 seconds!
Registration is limited, Register Now for summer 2022!
Learn about:
The Earth and it's Atmosphere
Make a model of the Earth's Atmosphere
The Solar System
Make a model of the Solar System
Rocketry
Make and launch rockets
Vanguard and Tiros satellites
Build your own Satellite
The Radio Telescope Dish
Make a model of a radio dish antenna
The Moon and other earth Satellites
Add these to our earth model
The Milky Way Galaxy
Make a star finder
Comets and Asteroids
Make your own comet or asteroid
Outer Space Observation: Telescopes
Make your own telescope
See through alien eyes
Using radio waves to study planets
Bounce your voice off the Moon using a radio telescope
Space Exploration Week Camp is a 5 day, 7 hour program from 8:30 AM to 3:30 PM
Program Costs: $199.00 per child.  $175.00 for each additional child from the same household.
Participants receive a packet to keep all of their materials as well as a keepsake box for all their models and a Certificate of Completion.
A Deposit of $50 per child is required at time of registration.
Full payment is required on the first day of Space Exploration Week.
Please return this form by mail or in person with a $50. deposit to register for the summer 2022 session
InfoAge 2201 Marconi Rd. Wall, NJ 07719 c/o Lori Lauber
Walk in hours are 1-5 on Wednesday, Saturday and Sunday
For more information call: 732-322-4823 / 732-280-3000 or email: lori.lauber@isec.space

Summer 2022
Registration Form: